First, let's clear up a common misconception plaguing gamers and gift-givers alike. 
This lovely lady right here, she's Zelda.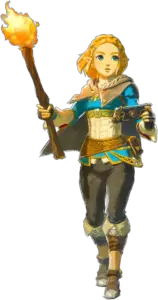 Image Source: zeldadungeon.net 
And this gallant hero goes by the name of Link.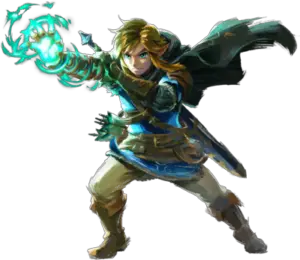 Image Source: zeldadungeon.net  
No, despite the misleading game title "The Legend of Zelda," you, the player, are not embodying Zelda, but rather the green-clad, adventure-ready Link. 
Don't worry, it's a common mix-up, but I'm here to help you navigate the wide world of Zelda fan gifts without a hitch.
Now, let's dive right into the treasure chest, shall we?

1. Nintendo Switch – OLED Model The Legend of Zelda™: Tears of the Kingdom Edition
This, my friend, is like the Triforce of Power, Wisdom, and Courage wrapped up in a neat little package. 
It's the highest honor you could bestow upon a Zelda fan. 
This special edition Nintendo Switch features exclusive Zelda-themed designs and is the perfect companion for the adventure. 
Trust me, the recipient will be over the moon—or should I say, over the Hyrule Castle?

2. The Legend of Zelda™: Tears of the Kingdom Edition Game
Fear not if the Switch console feels like a Moblin-sized expense. 
We've got just the solution. 
The latest game in the Zelda franchise, "Tears of the Kingdom", is the next best thing. 
It's an epic journey through a new corner of Hyrule, and any Zelda fan will be thrilled to embark on this new quest.
3. Deekec Legend of Zelda Ocarina
Stepping away from the screens, we move on to a unique gift: a beautifully crafted Ocarina. 
This isn't just a run-of-the-mill novelty item; it's a full-fledged musical instrument tuned to perfection and comes with a songbook full of melodies from the Zelda series. 
Plus, it's made of high-quality glazed ceramic and is guaranteed to be lead-free. 
It even fits comfortably in the hands of all sizes! This will let your Zelda fan serenade the moon—or annoy their roommates with incessant Zelda tunes.

4. Micro Bell Sword Link Legend of Zelda
We have this adorable Micro Bell Sword on the smaller side of things. 
Hand-painted and boasting intricate details, this tiny treasure is irresistible to any Zelda fan. 
It's a charming, affordable way to bring a touch of Hyrule into everyday life.
5. UNO, the Legend of Zelda Card Game
Finally, for those game nights, there's a Zelda twist to a classic game. 
Yes, it's UNO, but with Zelda. Like regular UNO, each card is graced with a character, item, or scene from the Zelda series. 
It's a delightful blend of nostalgia, competition, and a surefire hit for a Zelda fan.
There you have it! Whether your Zelda fan is more of a gamer or a collector, this guide will help you find the perfect gift. 
Happy shopping, and may your quest for the perfect gift be as exciting as a journey through Hyrule!